Thursday, February 11, 2021
#Once Upon a Socially-Distanced Valentine's
This year, Valentine's Day might look a little different. What's usually a big date night out might just be a cozy night in. Galentine's Day might just be you and your favorite female authors. That doesn't mean Valentine's has to turn into "Single's Awareness" night. If you're looking for love this Valentine's - look no further than the Library. Not only is February 14 also Library Lovers' Day... we've got you covered with books that will warm, steal, and maybe stop your heart. And who knows? You might just find the perfect literary companion.
#Take a Chance on a Blind Date with a Book
So, if you're not planning some elaborate romantic dinner at home with your significant other... May we suggest a fun alternative? Blind Date with a Book is a February favorite here at the Library and in libraries and bookstores across the world. It's a great way to discover new genres, authors, or series that you'll love. In fact, if you stop by your favorite branch, it's extremely likely that you'll find a fun "Blind Date" book display. They are easy to spot; they'll be the ones with the paper-wrapped book covers.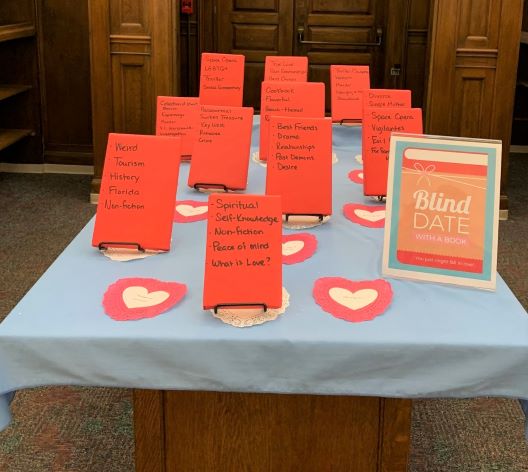 While a blind date with a book typically requires you to physically be at a participating location, or to have the mystery book shipped to the library location or your choice... in these times of social distancing: we've had to get creative. So, if you're up for a fun little adventure through our catalog, you might just find a hidden treasure that you'll want to put on hold and pick up curbside. Some of these titles might even be available in eBook format for instant download. What will you discover?
#Find Your *Digital* Dream Date
Below are seven "wrapped books" labeled with the following genres: horror, romance, mystery, science fiction, historical fiction, fantasy and nonfiction. Under each book, you will find a button labeled with the corresponding genre. Each button takes you to a mystery title in our catalog. Not feeling your first match? Try, try, try again! Every button has ten possible books it could link to at random. Have fun!