#Bookmobiles: The Mobile Branches
What we do and where we do it can change from time to time. Library service doesn't always happen at the library and it certainly doesn't always occur inside the four walls of a building. Our job is about meeting you, our customer, where you are. Sometimes, we have to take that show on the road! 
Before the Better Jacksonville Plan added new libraries to several communities around Jacksonville, we had book trucks, bookmobiles and "Library Operated Outreach Program" vehicles that traveled around Jacksonville to provide access to books in those places without their own branch.
#Access: Now and In the Future
In recent years, and especially during the pandemic, library users have come to rely on the 24/7 access of the library's digital collection of e-books, streaming video and other online resources. The Library is still going beyond the four walls. Only now, it's traveling through hyperspace!
That is why, at this time last year when we were forced to keep our physical locations closed, we responded by expanding digital resources (adding more eBooks than ever before), extending due dates, and eliminating fines for all. We also added Library Academy and Library U, a collection of library-produced online classes and events to help kids, teens and adults stay engaged. We wanted to remove as many barriers to access as possible.
So what's the next thing to increase library access? Could the bookmobile come back? Only time will tell.
#The First "Book Truck"
In April of 1928, the director of the Library requested $1200 for the purchase and upkeep of a library "book truck." Check out the picture below to read more (or get the accessible transcript here). This automobile would be "equipped with a specially designed body for hauling books and conducting book wagon service." The Library Board approved the purchase and by October, Jacksonville had officially begun the first mobile library service in Florida. The service continued for 75 years – providing accessible materials to rural residents where a branch had not yet been established.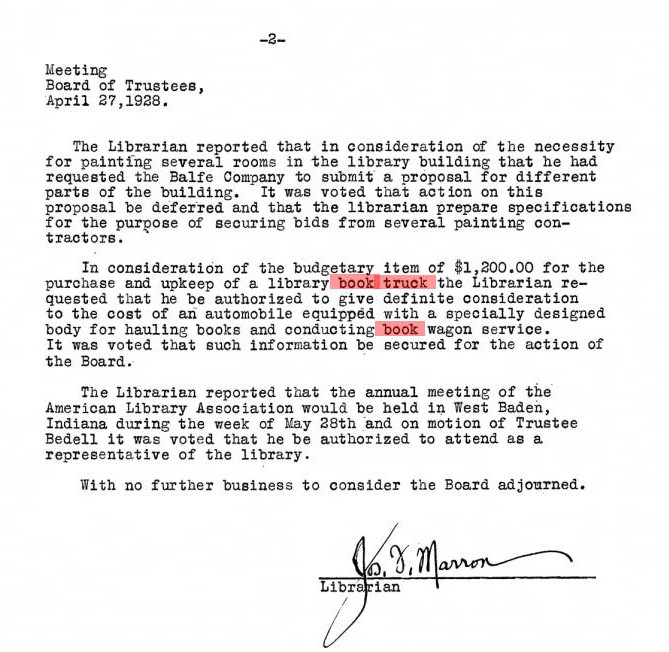 There were several iterations of the book truck or bookmobile over the years as well as other vehicles designed to bring the Library and its programs and collections to residents in areas not then served by a Library branch.
#The LOOP
In the early 70s, a grant-funded "Library Operated Outreach Program" (or LOOP) vehicle brought a summer program called LOVE (Library Oral Visual Experience) to the eastside and westside/suburban areas. Working with a music teacher, the Children's Department brought story hours, music, and puppet shows to Head Start Centers, retirement homes, etc. The project was pretty successful, too. In a regular meeting of the Board of Library Trustees on September 24, 1970, it was reported that systemwide circulation of books had increased 25%. Murray Hill alone saw an increase of 54%. To read more about the LOOP, click here to read May 16, 1972 meeting minutes and here to read the September 24, 1970 board meeting minutes.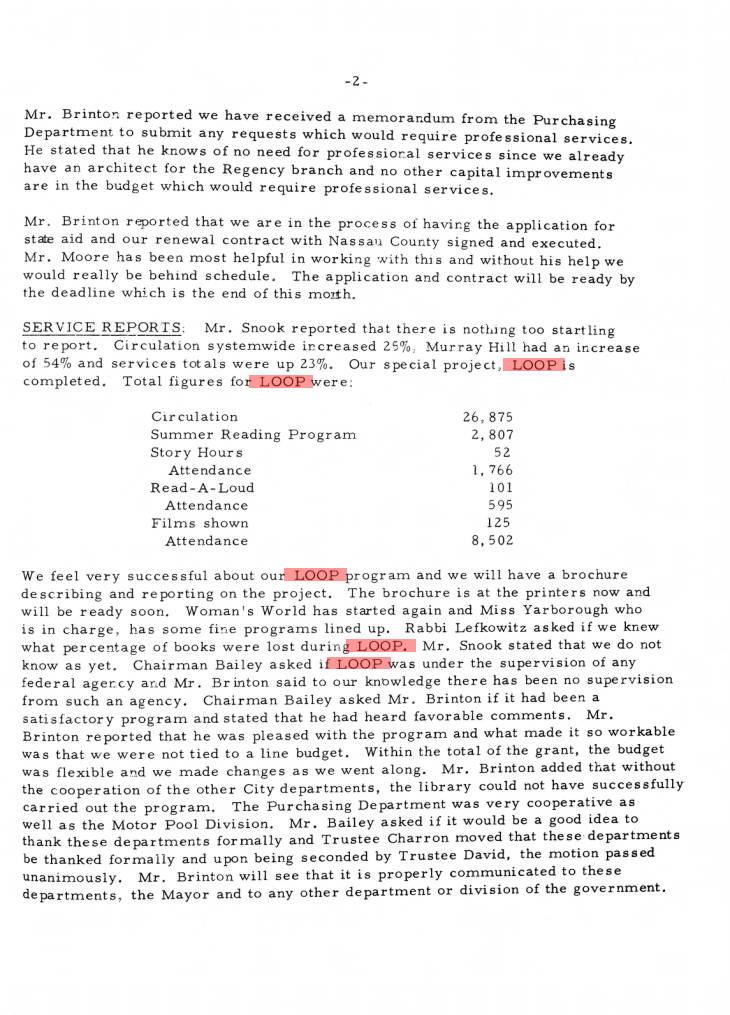 #New Beginnings
Ultimately, more branches were built – many as part of the Better Jacksonville Plan. The BJP was approved by Jacksonville voters on September 5, 2000, with around $150 million going towards library renovations and construction. As a result, Pablo Creek Regional and University Park Branch libraries both opened in 2004. One year later, in 2005, the new Main Library, Argyle, Maxville, South Mandarin and West Regional would all open their doors for the first time. The bookmobile was decommissioned that same year.
#Special Collections
Want more Jacksonville history? You can always visit Special Collections. There are many digital collections available 24/7. Please note: Due to COVID safety, the Special Collections Department on the fourth floor of the Main Library is currently only open by appointment. From their page, you can schedule a research appointment or you can reserve two hours on the digitization station. You can also call 904-255-6195.