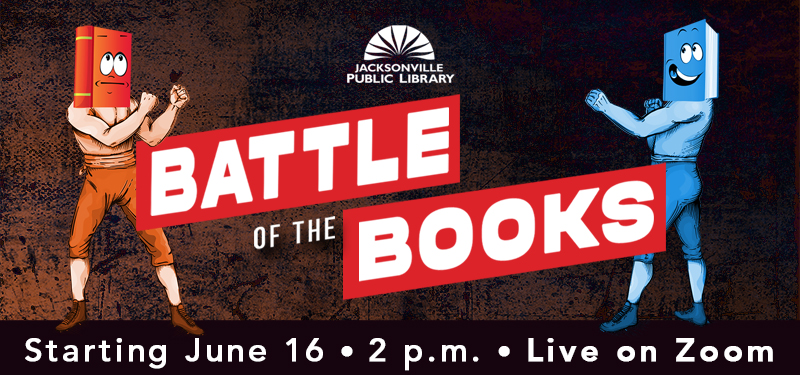 #Battle of the Books 2021
#June 16 and 30, July 14 and 28, August 4 at 2 PM
Calling all Duval County teens: Join us for Jacksonville Public Library's 2nd Annual Battle of the Books -- an exciting book-based competition you'll play from home using Kahoot! To participate, you'll read great books, answer fun trivia, and vote online! In all, eight books will compete to be the G.O.A.T.!
OK. Maybe not "greatest of all time" but one book will be named the Battle of the Books winner at the end of the Summer. And it's all decided by you!
#The Books
Every two weeks, you'll be asked to compete with other teens in trivia competitions based on each book. Then, two books will go head-to-head to compete for your votes. Only one book will move forward to compete for the coveted best book title. There are four Battle of Books events and a total of eight books. Will your favorite get crowned?

Staying socially distanced this summer? Don't forget: You can download copies digitally or request hardcopies through Curbside Pickup. Did you know? Curbside just got even easier. There's no need to call. Just let us know when you are on your way by alerting us through the Jacksonville Public Library app (available on Android and iPhone). 
#How to Participate
There are two ways to participate.
Attend virtually every other Wednesday at 2:00 p.m. starting June 16 (live on Zoom). If you're interested in winning prizes (and not just bragging rights), this is absolutely the way to go. The participants with the highest score at the end of each live Kahoot quiz will win a sweet treat! That's just the way the cookie crumbles...
If you're unable to attend live, you can also play along anytime (before August 3) using the Kahoot! links below to answer trivia questions based on each book. Your scores will be determined by how quickly you are able to click on the correct answer. Here's the thing: you'll have to wait till the end of the summer to see if you've won!
#Kahoot! Trivia
All 8 Kahoot! links (and game pins) for our 8 "Battle of the Books" 2021 titles are now available! If you missed the live event, you can play anytime before August 3. Note: The final Kahoot! Quiz will only be available at the Finale on August 4.
#Voting
Either way you decide to play: Come back to this page to VOTE. You can keep voting throughout the summer as you read more of the books from the list above. Your votes determine the winner! Just make sure to get those votes in by August 3!
The book with the most votes will be crowned the winner at our Finale Program on August 4 at 2:00 p.m. There will also be one big, final cookie-themed prize awarded to one lucky Kahoot! player/trivia master - a cookie bouquet from Maddy D's Café and Confections! So, try to attend that one live!
---
#Looking for More Events?
# 
Teens: Make This Your Best Year Yet
Saying goodbye to summer is hard – But getting ready to go back to school doesn't have to be! Go Back to School Like A Boss and with help from your Library. Join us on Friday, August 6 at 4:30 p.m. live on Zoom for a virtual roundup of FREE digital resources. Talk with other teens (ages 12-17) and share ideas.
Plus, get tips and tools for:
Study Skills
Staying Organized
Managing Stress