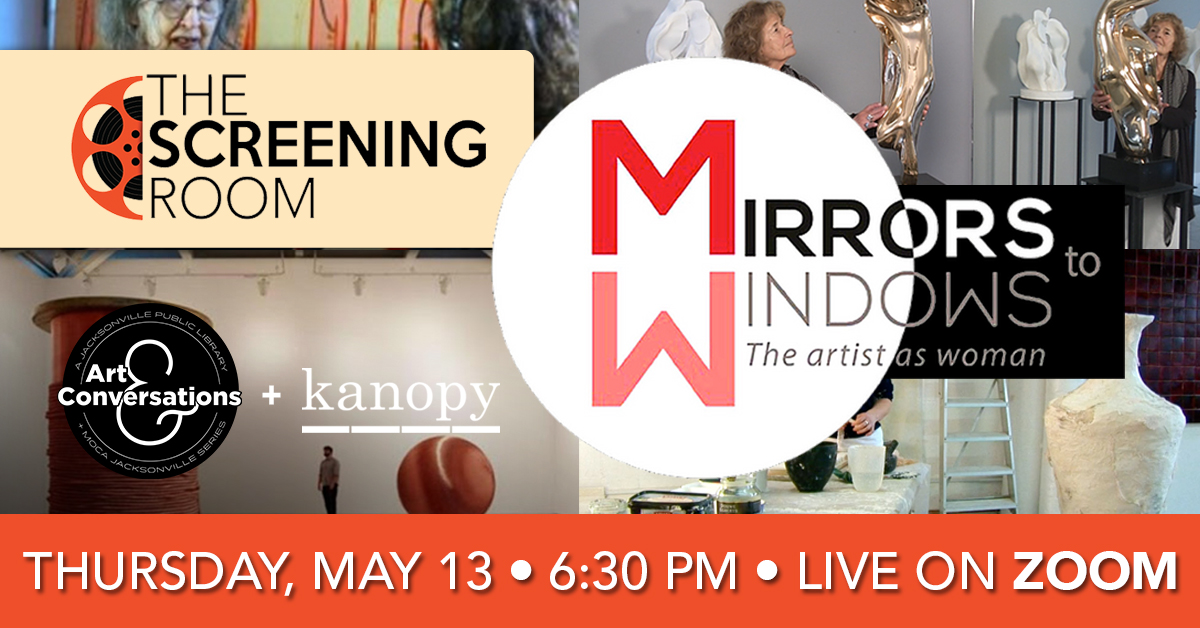 Jacksonville Public Library + MOCA present Art & Conversations, a series of innovative programs focused on literacy and the arts. In this series, the Jacksonville Public Library and MOCA will collaborate to provide the community access to a rich set of resources by partnering an educational library program with a museum exhibition.
In connection with MOCA's current group exhibition, Romancing the Mirror, we present Mirrors to Windows: The Artist as Woman for this edition of Screening Room. The film explores three generations of female artists from around the world who are forging their careers in the London art scene.
To learn more about the selection, visit https://www.susansteinbergfilm.com/copy-of-mirrors-to-windows.]
The event begins with a viewing of the film. Join the conversation as we discuss the connections between the film and the message of the artwork post-screening.
#Join:
Art & Conversations: Screening Room, Thursday, May 13, at 6:30 pm – 8:30 pm. Click HERE to register.
#Read:
Frida in America: The Creative Awakening of a Great Artist by Celia Stahr is story of how three years spent in the United States transformed Frida Kahlo's career and her personal relationships.
Ninth Street Women by Mary Gabriel is the story of five women who changed modern art.
The Queens of Animation by Nathalia Holt describes how women have shaped Disney's animation while battling sexism, domestic abuse, and workplace intimidation.
#Watch:
Funny Ladies: A Portrait of Women Cartoonists directed by Pamela Beere Briggs explores the world of cartooning through the creative process of four female cartoonists.
Little Stones directed by Sophia Kruz shows the personal narratives of women around the world who use art to help their communities.
Agnes Martin: With My Back to the World directed by Mary Lance is a documentary in which abstract artist Agnes Martin speaks about her work, her working methods, her life as an artist, and her views about the creative process.
#Explore:
Romancing the Mirror  Exhibition at MOCA (Museum of Contemporary Art Jacksonville)
The exhibition closes June 20, 2021
This group exhibition showcases works from seven women artists all centered on female experiences and ways of looking at the world. Each artist uses their own personal experiences in their work while challenging classical depictions and definitions of women in art.
You can view the exhibition at MOCA Jacksonville or take a self-guided virtual tour HERE.
Perks for library card-holders at MOCA include:
Free access to MOCA's galleries during the Art & Conversations Series on the final Friday of each month with your library card.
$10 off MOCA's family level membership with your library card.
#Talk:
What artists and art styles inspire you?
What artistic works do you feel speaks to your own experiences? Why?
What is your relationship with art?