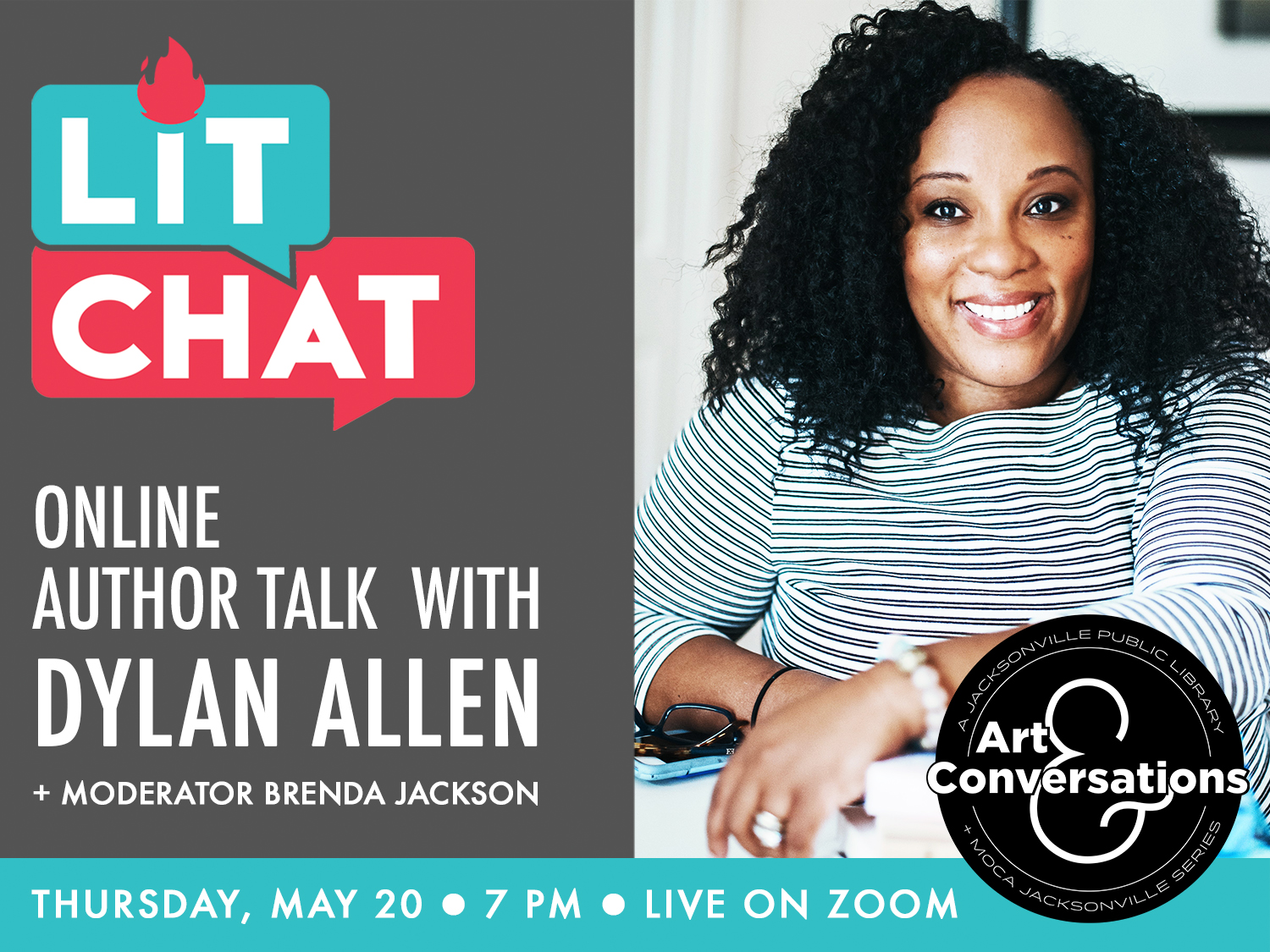 Jacksonville Public Library + MOCA present Art & Conversations, a series of innovative programs focused on literacy and the arts. In this series, the Jacksonville Public Library and MOCA will collaborate to provide the community access to a rich set of resources by partnering an educational library program with a museum exhibit.
Join us for Art & Conversations, by registering for Lit Chat with Dylan Allen Thursday, May 20, at 7 pm. Author Dylan Allen will chat about her experiences with the romance genre with romance author Brenda Jackson and connect it to MOCA's current group exhibition, Romancing the Mirror.
Dylan Allen is a lawyer turned romance author. Allen's first career fulfilled her duty to her parents who immigrated to the United States when she was seven years old. Allen began her career as a romance novelist with the encouragement of a friend and published her first book on her 40th birthday. Four years and 10 books later, Dylan Allen is now a Wall Street Journal and USA Today Bestselling author. Outside of writing, Allen is also a world traveler, a wife, a mother of two sons.
Brenda Jackson is a Jacksonville native and the author of over 125 romance novels. Her professional writing career began in 1994 with the encouragement of her husband. In 2012, she received the Romance Writers of America's (RWA) Nora Roberts Lifetime Achievement Award. She is also dedicated to philanthropy and in 2014 received a Mary McLeod Bethune Community Service Award and received Humanitarian Award from Florida Memorial University in 2015. Brenda Jackson has inspired generations of romance authors and fans.
Join:
Lit Chat with Dylan Allen, Thursday, May 20, at 7pm. Click here to register.
Read:
Dangerous Men and Adventurous Women edited by Jayne Ann Krentz disputes some of the notions that plague romance writers. The contributing authors also discuss the positive life-affirming values inherent in all romance stories.
The Sun and Her Star by Dylan Allen is a stand alone book about a romance that develops between long-term friends.
Tonight and Forever by Brenda Jackson is her first romance novel, published in 1995. It is a perfect way to dive into Jackson's novels.
Watch:
Love Between the Covers: A Look at the Billion Dollar Romance Fiction Industry directed by Laurie Kahn offers fascinating insights into the history and popularity of romance novels.
Explore:
Romancing the Mirror Exhibition at MOCA (Museum of Contemporary Art Jacksonville)
The exhibition closes June 20, 2021
This group exhibition showcases works from seven women artists all centered on female experiences and ways of looking at the world. Each artist uses their own personal experiences in their work while challenging classical depictions and definitions of women in art.
You can view the exhibition at MOCA Jacksonville or take a self-guided virtual tour HERE
Perks for library card-holders at MOCA include:
Free access to MOCA's galleries during the Art & Conversations Series on the final Friday of each month with your library card.
$10 off MOCA's family level membership with your library card.
Talk:
How do you feel women are represented in the arts and in popular culture? Has this changed over time? Why?
What is your favorite genre and why do you enjoy it?
How are different book genres accepted by your community? Has this acceptance changed over time? Why?