Tuesday, October 19, 2021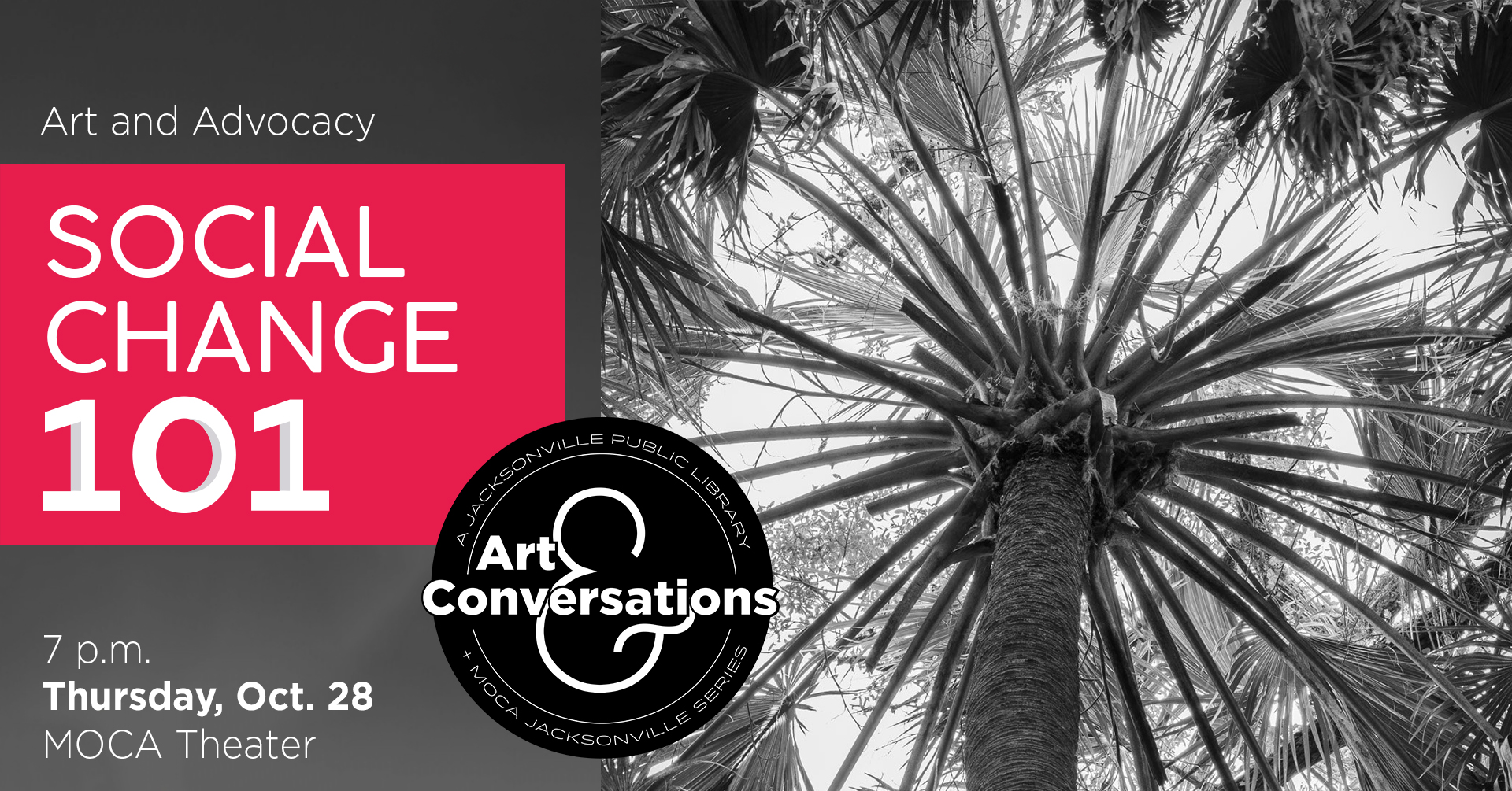 Jacksonville Public Library + MOCA present Art & Conversations, a series of innovative programs focused on literacy and the arts. In this series, the Jacksonville Public Library and MOCA collaborate to provide the community access to a rich set of resources by partnering an educational library program with a museum exhibition.
This series of programs centers around MOCA's current exhibition, Structure of Nature | Nature of Structure by Jacksonville artist Doug Eng. His art and advocacy highlights the need to preserve our endangered wetlands and forests in Northeast Florida.
#JOIN:
Art & Conversations: Social Change 101 - Art and Advocacy, October 28, 7:00 pm – 8:30 pm at the MOCA Theater. Register HERE
This is a panel discussion about art and advocacy for environmental causes.
Our moderator: Josh Gellers, an Associate Professor and Director of the MA in International Affairs program in the Department of Political Science and Public Administration at the University of North Florida. His research focuses on environmental politics, human rights, and technology. 
Our panelists: 
Sarah Crooks, local artist and educator whose work combines environmental science with spirituality as a means of reconnecting people with the living world.
Dana J. Doody, Executive Director of the Jacksonville Arboretum & Gardens, where people can experience and learn about Jacksonville's ecological diversity.
Doug Eng, local artist whose recent projects focus on raising awareness of deforestation and the effects of climate change on the health of our forests.
 
#READ:
A Florida State of Mind: An Unnatural History of America's Weirdest State by James D. Wright
Wright's witty history of the Sunshine State, for everything from alligator attacks to zany crimes. Crammed with unforgettable stories and facts, A Florida State of Mind will show readers exactly why the state is so weird.
The Swamp: The Everglades, Florida, and the Politics of Paradise by Michael Grunwald
The Swamp is the stunning story of the destruction and possible resurrection of the Everglades, the saga of man's abuse of nature in southern Florida and his unprecedented efforts to make amends.
Drawing Florida Wildlife by Frank Lohan
If you love watching Florida birds and other wildlife, searching for nests, and identifying trees and plants, here is a new way to enjoy it all--by learning to draw what you see. Whether you are embellishing field notes or just enjoying a new skill, you will appreciate the easy directions in this guide to drawing Florida's diverse wildlife and plants.
#WATCH:
Rachel Carson: The Woman Who Launched the Modern Environmental Movement on Kanopy
Drawn from Carson's own writings, letters and recent scholarship, this film illuminates both the public and private life of the woman who launched the modern environmental movement and revolutionized how we understand our relationship with the natural world.
An Art That Nature Makes: The Work of Artist Rosamond Purcell on Kanopy
This documentary details Purcell's fascination with the natural world, finding unexpected beauty in the discarded and decayed - offering insight into her unique way of recontextualizing objects both ordinary and strange.
*Kanopy is a film streaming service available for free through the Jacksonville Public Library.
#EXPLORE:
Structure of Nature | Nature of Structure by Doug Eng at MOCA (Museum of Contemporary Art Jacksonville)
This retrospective of the work of Jacksonville artist Doug Eng, highlights the need to preserve our endangered wetlands and forests in Northeast Florida, drawing parallels with our search for a common identity as human beings. The exhibition closes January 2, 2022. You can tour the exhibition online HERE
Perks for library card-holders at MOCA include:
Free access to MOCA's galleries during the Art & Conversations Series on the final Friday of each month with your library card. Make sure to register on MOCA's website to schedule your visit.
$10 off MOCA's family-level membership with your library card.
HOW USEFUL WAS THIS ARTICLE TO YOU?
If you closed that survey pop-up but are ready now to let us know how useful this article is to you, we'd love to hear it. Click here for a very short survey so we can make our content fit you better. Thank you!