Thursday, September 12, 2019
September is National Library Card Sign-Up Month! In the Digital Age, it may seem like the need for public libraries is dwindling. This, however, is far from accurate. There are more reasons than ever for why you should have a library card in the 21st century, and we've listed just a handful below:
#1. Libraries are a magical place to explore.
Many people simply haven't been to their local library in years—and that's okay! When Chrissy Teigen tweeted about her experience at the library after a 23 year hiatus, so many people could relate. If you're one of those people, you'll be amazed at what you can find at your local library these days. Libraries are hubs where people, ideas, and information come together. Wandering through a library is an exhilarating feeling that browsing online will never emulate. You never know where you'll go, what you'll discover, or how you'll be inspired during a trip to the library.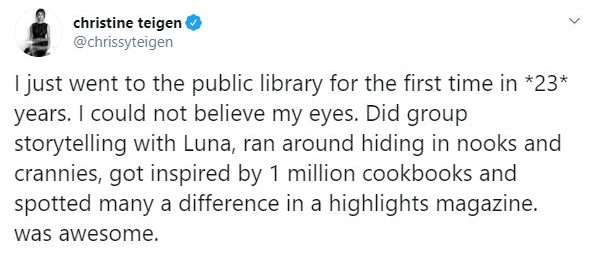 #2. Libraries are constantly adding new material to its catalog.
A library isn't a building that houses old, musty books that haven't seen the light of day in years. It's a flourishing collection of materials that are up-to-date with the latest publications. Your favorite chef just released their new cookbook last month? The library has it. A best-selling author just released their long-awaited novel? The library has several copies to go around. The library is like walking into a massive bookstore and being able to take home everything on your wish list, at no cost. You never have to feel guilty for buying a book you never got around to reading again. Plus, at JPL you can also place books on hold and have them transferred to the nearest library branch for your convenience.
#3. A library card unlocks endless digital content.
The Jacksonville Public Library has an entire E-Content Catalog that offers e-books, audiobooks, movies, music, magazines, databases, and much more. Tired of scrolling endlessly through social media? Using your library's digital content can help you spend your free time in a more productive way. One of the newest editions to our E-Content collection is Kanopy, a movie streaming service that's dedicated to thoughtful entertainment. Jacksonville Public Library card holders now have access to more than 30,000 of the world's best films, including award-winning documentaries, rare and hard-to-find titles, film festival favorites, indie and classic films, world cinema, and a portion of the criterion collection. Other popular services include Hoopla, Overdrive, RB Digital, and Flipster. 
#4. Libraries provide essential programs and services to the community.
Libraries offer programs and services year-round to enrich the lives of people in their community. The Jacksonville Public Library offers storytimes for children, ESOL classes, book clubs, coding classes, Career Source help, music and art classes, sewing lessons, and so much more. Our Summer Reading Program is an incredibly valuable resource for Jacksonville's youth that gives every child the opportunity to achieve academic success. The library also helps adults in the community stay on top of the ever-changing world of technology. We offer 1-on-1 tech tutoring, adult learning resources, public computers, 3-D printing, a digitization station with access to Adobe Photoshop, book a librarian sessions, and more.
#5. Libraries preserve democracy.
Having a library card is one of the most important things you can do for you and your community. As the American Library Association states, "We celebrate and preserve our democratic society by making available the widest possible range of viewpoints, opinions and ideas, so that all individuals have the opportunity to become lifelong learners - informed, literate, educated, and culturally enriched." The more support and engagement you give your local library, the more resources the library will receive to serve the entire community. 
#6. It's totally free!
All of the materials, programs, services and more that we listed are completely free to the public with a library card. Local libraries are truly a wonderful resource that every member in the community should utilize, but if nothing else, using your local library is a great way cut costs at home. Sign up for your Jacksonville Public Library card today!